The mission of our company is to offer you local and the best quality mead and honey products.
News
Upcoming events
24.02.2020 13:00
Týden druhových a jedinečných medovin Pleva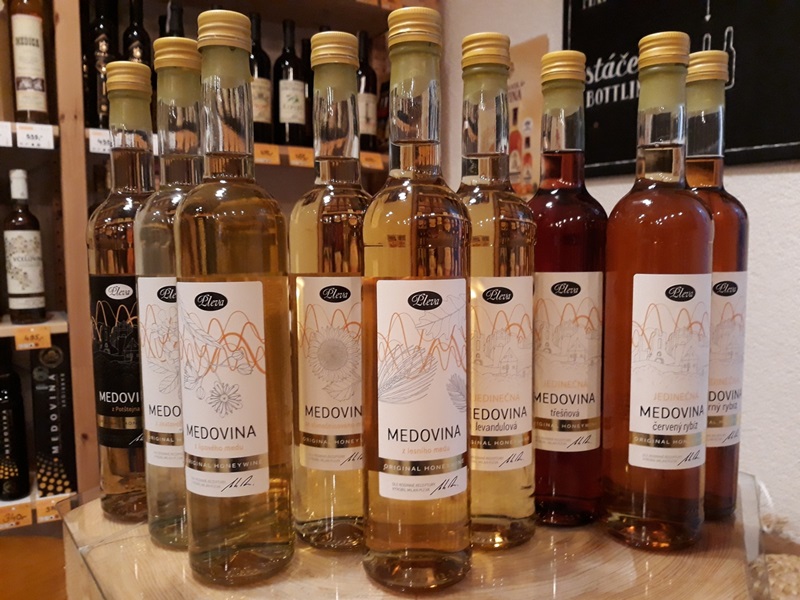 24.02.2020 18:00
Řízená degustace druhových a jedinečných medovin - výrobce Pleva
Zobrazit všechny degustace
Medovinarna
Specialized shop with traditional mead and honey
Na Zderaze street No. 14, Prague 2
Great place where to buy a unique and tasty gift from the Czech Republic. More than 100 traditional meads and honey products from regional producers.
Come to explore the world oldest and Czech traditional alcoholic drink and learn about its production.
Every day more than 30 different meads available to taste. We also offer evening guided tastings for groups or companies!
Opening time
| | |
| --- | --- |
| monday-saturday | 12:30 - 7:30 PM |
| sunday | closed |
Contact
shop
775 633 077
Mr. Jiří Pouček owner
+420 776 814 841
Fotogalerie
Fotografie od: Administrator
Degustace s Jaroslavem Lstibůrkem a jeho ženou. Představili svá medová vína medoviny. Kaštanové medové víno je opravdu zážitek.

70 druhů medovin ze 4 soutěžních kategorií soutěže Medovina roku 2017 bylo možné ochutnat i v Praze.

50 druhů medovin jste mohli ochutnat během týdne slovenské medoviny.


Degustací svých medovin nám osobně provedli otec Jiří a syn Jiří Slámovi, kteří se proslavili poslední roky obnovenou výrobou Staročeské medoviny.


Mead store
We opened this first specialized mead store in Europe in 2016. But it is not only store but the tasting room. Everybody coming to us should starts with tastings. Everyday you can choose from more than 20 different kinds of mead and you will love it.
Why Czech and Slovak Mead?
In terms of high quality alcoholic drinks, this region is definitely not only about beer or Becherovka.

Czech republic and Slovakia have long and rich tradition of mead (honey wine) production reaching back at least to the 6th century. By the 11th century, the Czech kingdom was one of the major exporters of mead in Europe. This lasted until 14th century, when Charles IV. and his son Václav IV. started promoting mead's main competitor – wine made of grapes - and mead became less prominent.

The traditional mead production in our countriy survived and is actually experiencing its revival. Come to our place and enjoy history of the town with drink from honey.
Buy mead online
We provide online e-shop where you can order your favourite mead to all countries in European Union.